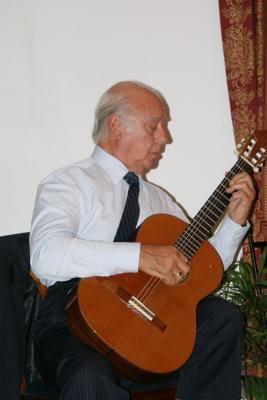 Raul Maldonado is born in 1937, at Maria Susana, a little village lost in the middle of the Pampa Argentine, in the provincia of SANTA FE. He comes from an old creole family deep-rooted to the country since a lot of generations. From his young childhood, his love for music led him to escape by hiding  to go and listen to the old peasants who were playing on their guitar the ancient gauchos' stories.
Young witness of daily creation of common man, man from Pampa, he feels born in him  the passion for guitar and for popular music tied to his country. When he was ten years old, this passion led him to make a fortune instrument with tennis racquet, it has been his first guitar.
At 12 years old, he follows his parents to ROSARIO, great industrial town of ARGENTINE where he finished Highschool studies and begin Medecine ones , in order to follow family tradition.
By that time, he met the famous well-known argentines guitarists Graciela POMPONIO and Jorge MARTINEZ-ZARATE and gives up his medecine studies to devote himself , under the tutelage of his masters, to musical studies at " EL INSTITUTO DE MUSICA DE LA UNIVERSIDAD NACIONAL DEL LITORAL". He has been following a classical training for eight years without losing sight the evolution of Argentine folklore. That's perfection search as well a permanent musical concern which lead him to come in FRANCE, first time in 1962  then a second one in 1965.
As a performer, he is produced in many european countries and participates in several festivals, the most important are the one of AVIGNON, of CORSE, of QUERCY BLANC, of AIX EN PROVENCE, PARIS International Festival,  RELIGIOUS MUSIC Festival  , of STOCKHOLM, of FRIBOURG , of SPOLETO, of LUXEMBOURG, of BUENOS AIRES(Guitarras Del Mundo, Guitarras En Concierto), HISPANOAMERICAN GUITAR Festival in BEYROUTH .
In addition to his activities as a performer and a composer, he leads an intense educational activity in several conservatory in Paris surroundings.CAP holder since 1989, he was appointed the same year at the direction of a Preparation Centre for Educational Events of Aptitudes.- Certificates In 1998, he was project leader in Inspection Municipal Conservatory of the city of Paris.
As a composer, it offers us numerous works inspired by South American folklore, see CATALOGUE OF WORKS.
The "COMMENTS TO MARIA TECUN" ,improvised on the part of the Guatemalan writer MIGUEL ANGEL ASTURIAS.

"

PAMPA

" , suite for solo guitar and various compositions for duos, trios and quatuors for guitars.

Many works done in collaboration with the Argentine poet Atahualpa Yupanqui, among which include the Cantata  

"

TUPAC AMARU"

performed in BUENOS AIRES in 1971 and in PARIS in 1973 in the ORTF Auditorium.

In 1971, Atahualpa YUPANQUI recorded "PARA REZAR EN LA NOCHE

", milonga on a poem by Atahualpa YUPANQUI and music by Raul MALDONADO.

In 1977, he created his cantata 

"

MUNDO NUEVO "  in the HOLY CHAPEL of PARIS, with collaboration of  " LOS CALCHAKIS " , the soprano singer ANA MARIA MIRANDA and the NATIONAL CHOIR of the SORBONNE directed by Jacques GRIMBERT.
In 1980, he presented his cantata for Children Choir "EL NIÑO CANTOR

"

and he repeated in 1985 with

"

MI CANTO DEL SUR

"

 which will be performed in various stages all over the orld ; Pekin, New Delhy, les Choralies de France , and so on ...

The same year, he received the Charles Oulmont Award of France Foundation for his global work.

In 1991, he presented his CONCERTO for GUITAR AND ORCHESTRA, "UN VIENTO DE LUZ

", written in collaboration with the french composer

ROBERT COINEL

.

In 1995, always with Robert COINEL, he created "LEYENDAS DE MI CAMPO" for two Guitars and Orchestra as well "CANTOS DEL RIO VIEJO", for Choir and Children, Orchestra and Percussions which will be presented in the city of Martigues ( France).

In 1995, with his "

QUATUOR ATAHUALPA"

, he recorded "CUENTOS DEL VALLE ENCANTADO" written for three Guitars, in the CD  " EL DIABLO SUELTO" .

In 1999, the "

QUATUOR DE GUITARES LUTETIA

"

 directed by

Christian de CHABOT

, recorded a CD dedicated to his works, which is acclaimed by Five Gold Tuning Forks by the specialized critics.

In 2001, he created "VENEZOLEANDO" for Four Guitars, within the "Fifth  Guitar Meetings" in Vandoeuvre (France).
Again in 2001, he presented , always in collaboration with R.COINEL, his Quatuor for Flutes and Cords « SOPLOS DEL SUR » created by HELIOS Group within LEVALLOIS and MASSY FESTIVAL .
In 2002, he presented his Suite for Three Guitars "  PARANASERA "
In 2005, « ODAS A LA TIERRA SIN MAL», ordered by the " Musiques Rurales de France" , will be presented in the Pavillon Baltard ( Paris ) with 400 performers.
In 2010, he presented, in collaboration with

Mauricio DIAZ ALVAREZ

, "CINCO ECOS DE AMERICA", for Guitar Solo, work played in Paris, Rome, Palerme and at the Guadalajara Music Festival ( Mexico).
In 2012, he recorded with Christian de CHABOT the CD " HOMBRES DE ARGENTINA

",

 
In 2014, he wrote " VILLANCICO " et " FESTEJO " for flute and piano, as well " MILONGA CAMPERA " et " TANGO ", ordered by Argenteuil Conservatory, for set of mandolines , guitars and harps.
His works have been played by some of the most famous  currents Guitarists ;
 , Laurent BOUTROS , Christian de CHABOT, Mauricio DIAZ ALVAREZ , Michel SADANOWSKY,  among others.
Many other artists, all over the world, have recorded too the works of Raul MALDONADO ( see folder CD / INTERPRETES )
 Quatuor de guitares de Lisboa (Portugal)
Quatuor de Zagreb (Croatie)
Quatuor Colibri ( Grande- Bretagne)
Le Septuor PIZZICATI ( France)
L'ensemble à cordes  AEQUALIS (France).
Ines PERAGALLO et José PEDRONI (Allemagne )
Duo violon et Guitare GODEAU POSTEL
Le Quintet de Guitares EPIKA de Bulgarie.
Le Quartet ELBE - quartet